2020 Florida Undergraduate Research Conference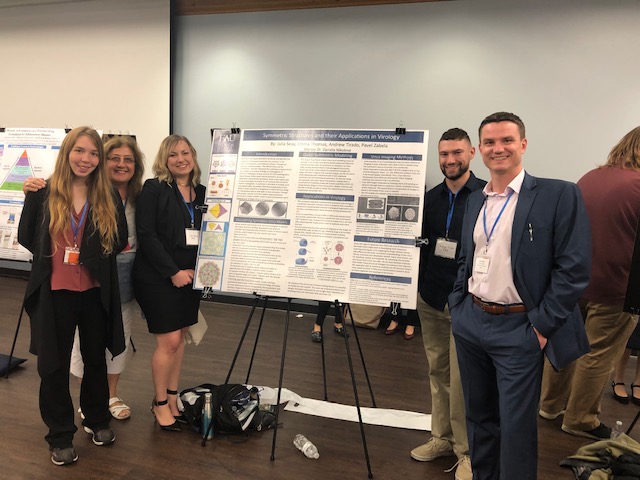 The Florida Undergraduate Research Conference (FURC) is one of the nation's largest multi-disciplinary research conferences. It is an annual event open to all undergraduate researchers in the state of Florida to present their research in a poster forum. Each year, the conference is hosted at a different college or university in the state. The conference boasts some of the best networking opportunities with fellow researchers and graduate programs across the country, as well as workshops and other professional development experiences.
The 2020 FURC was held Feb. 21-22, 2020, and was hosted by the Florida Gulf Coast University in Fort Myers.
An Undergraduate Research group under the mentorship of Daniela Nikolova, Ph.D., participated in the poster competition. The members – Emma Thomas (mathematics major), Andrew Tirado (engineering/computer science major), Pavel Zabela (biology major), and an alum, FAU Office of Undergraduate Research and Instruction researcher, Julia Seay – already a teacher herself – were all part of this team from Florida Atlantic. The group attracted the interest of the other presenters with their poster "Application of Symmetric Structures in Virology."  Proactively, they were already exploring the structure of viruses, and a possible mathematical approach to fighting them.
Through the team's previous research project, "The Mathematics and Art Connection," they witnessed the usefulness of group theory as it relates to symmetry. The group's current project aims to apply this to the field of virology. Through our research, we hope to better aid in the development of drugs and the treatment of viruses by exploring mathematical concepts that provide better insight into the potential structures of virus capsids. 
Notes from the research project
Symmetric and quasi-symmetric structures are beautiful and powerful mathematical tools that are prevalent in the arts, crystallography, and molecular physics. 
In particular, in the field of virology, some viral capsid shells - the protein shells that encapsulate a virus - follow either symmetric or quasi-symmetric arrangements in which applications of group theory and topology in 3-dimensions help to shed light on virus structure.
Through this project, we wish to further explore various types of symmetric structures in order to better model viruses and hopefully aid in the development of safer and more efficacious drugs and treatments. ​
By relying on the structures of these building blocks it is possible to model the viral capsids. The more we understand about virus' shapes, the better equipped we are to fight their infections, so modeling them will ultimately help save lives. Since this topic is relatively new, there are a lot of discoveries to be made which may lead to developing more improved scanning techniques, viruses targeting drugs, and a better understanding of the virus's nature, evolution and adaptation.